GIVE US A SHOT! CUSTOMER SERVICE IS #1
WE CAN:
Meet Any Budget
Meet Any Deadline
Shipout Gifts / Lead Packages
Create Unique Holiday / Event Gifts
Create Non-Profit Sales Packages
WORKING WITHIN A BUDGET? SEE SOMETHING THAT YOU LIKE, BUT IT'S NOT QUITE RIGHT? START PUTTING ITEMS IN YOUR CART, AND THEN LET US HELP YOU REFINE YOUR SEARCH TO HIT YOUR NEEDS!
1,000's of ITEMS ARE AVAILABLE...THERE IS ANYTHING IMAGINABLE AVAILABLE!
With over 10 years in Retail Management and another 5 years in the Media, understanding the consumer and knowing what makes them tick is our business. Being able to provide unique and creative gifts, or simple and cost efficient giveaways, is a perfect way to make that first IMPRESSIONS - OVER & OVER AGAIN.
YES! We can create TSHIRT ARTWORK THAT SELLS! In combination with our online store www.RaceTeamStore.com, we can help you create artwork for your company/team/event and then give you an outlet to sell it! Our artwork costs start at $50 and top out at $200 for awesome. Our TSHIRT PRINTING costs start at $6.50, and minimums are only 72 combined sizes! Call or email today for a quote.
Putting together a day event, trail ride or think some type of a snack would be a great benefit to your promotion? Lets put together some CUSTOM LABELLED SNACKS OR CANDY. Low Minimums. Available in 4, 8 or 16oz. LOTS to choose from: 20+ Dried Fruits, Popcorn, 15+ Nuts, 100+ Candies, 30+ Trail Mixes 45+ Granola Mixes, Pretzels, Nuggets, Chips and MORE! You Design the Label Artwork, or we can. It's easy!
YES! We love to put PACKAGES together and ship out to your customers/clients/leads without you ever having to touch it! We build the gifts here in our office and guarantee they are a perfect representation of your business. Please enquire about options. It is very helpful to have an idea of your per gift budget.
Bower Media is one of the many photographers at the races, and we decided to take our pictures one step further. Use one of our photos, or supply a photo that you own to create a ONE OFF PHOTO GIFT: Shot Glasses, Coffee Mugs, iPad Covers, iPhone Covers, Books Posters, Bags, Clocks and Many More Fun Ideas!
Bower Media's business is PR. We can help you create any PAPER PRODUCTS: Business Cards, Stickers, Marketing Handouts, Banners & Posters Autograph Cards, Calendars, Sign-up Sheets, Water Bottle Labels just to name a few.
Call us directly for Specific Help. 714-394-1716 or 888-460-6116
Fresh Ideas!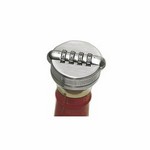 Solid Stainless Steel Combo Liquor/Wine ...
Perfect for securing premium wines and spirits. Locks up a bottle so that only the combination holder can reopen it. Instructions for using and changing the combo are included. 2 3/4" H x 2" Diameter
$15.10 - $18.49